About 10,000 children with congenital heart defects are born in Ukraine every year.
The vast majority of these children can have a full, healthy life in the future if they get surgery in time. In the "Dobrobut" medical network, such complex surgeries as closing the defect of the interventricular septum and mitral valve plastic surgery in children are performed minimally invasively. That is, without a traumatic large incision of the sternum.
The incision in minimally invasive heart surgery is 5 times smaller than in conventional surgery, and there is no trauma to the sternum. The child experiences much less pain and suffering. After minimally invasive surgery, rehabilitation is much faster. Children can walk the very next day after the surgery, on the third or fourth day the child can return home. The surgery does not leave visible scars, only minor marks that are almost invisible over time.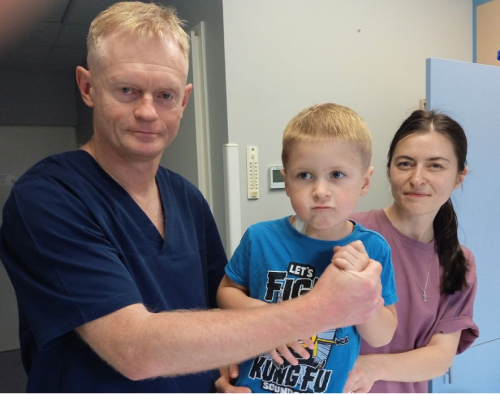 The purpose of the program:
To provide high-quality surgical care to children with heart defects in a timely manner;
To reduce the pain and psycho-emotional experiences of a child who needs an operation for a congenital heart defect;
Help to improve the quality of life of a child with a congenital heart defect.
Components of the program:
Examination, determination or confirmation of diagnosis;
Pre Surgery examinations; Carrying out minimally invasive cardiac surgery;
Rehabilitation.
* The cost is reduced due to the fact that the entire Dobrobut team involved in the operation (doctors, junior medical staff, managers) works on a volunteer basis.
The list of documents required for participation in the consideration of the status of beneficiaries of the program:
Medical documentation confirming the presence of a congenital heart defect in a child.
Beneficiary selection algorithm and program implementation stages:
Employees of the Foundation review the application for participation in the program and confirm compliance with the requirements for the beneficiary.
The Foundation manager informs the members of the special commission about the beneficiary's candidacy, the commission considers the candidacy, studies the documents, medical and social factors and makes a decision.
The beneficiary receives written confirmation of participation in the program.
The beneficiary is scheduled for a convenient time to receive medical services.
After providing the beneficiary with all medical services, an account is created for the Foundation from the "Dobrobut" medical network.
Make a charitable contribution
Your contributions help Ukrainians affected by the war to meet the victory of Ukraine healthy!

0x565721a9ed21FCB385d0d7654BE6853549Ff9652
bc1q2ktcqed8agumaln6zcdjl6grz97qm5aycwy2s3
0x565721a9ed21FCB385d0d7654BE6853549Ff9652
TVwsE775SFb21aUxRJ1xMQqJTUukSGssJN
TVwsE775SFb21aUxRJ1xMQqJTUukSGssJN
0x565721a9ed21FCB385d0d7654BE6853549Ff9652
Reducing the mortality of children from congenital heart defects;
Acceleration of postoperative rehabilitation of children with congenital heart defects;
Improving the quality of life of families raising a child with a congenital heart defect.