Concussion is one of the most common war injuries. Being near the epicenter of the explosion, every person risks getting a concussion. That is, not only military personnel are at risk, but also civilians — adults and children. A person can feel the consequences of a concussion throughout his life: hearing, brain function deteriorate, memory and attention deteriorate, sleep problems arise. If a person is provided with comprehensive and professional medical care in a timely manner, these consequences can really be minimized.
40% is the number of contusions from the total number of combat injuries
35% is the number of patients whose concussion symptoms become chronic due to untimely care.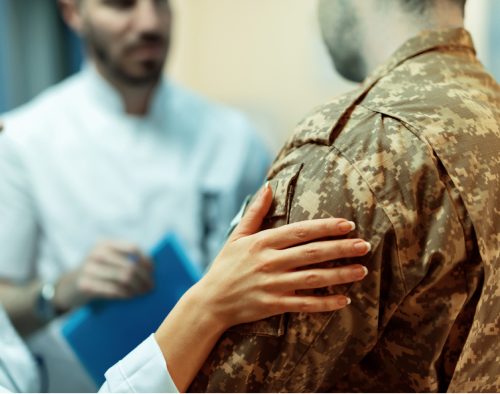 The purpose of the program:
Minimizing the consequences of concussion in civilians and military;
Improving the quality of life of concussion patients;
Bringing public attention to the problem and reducing stereotyping and stigmatization of people who have suffered a concussion.
Components of the program:
Audiometry (determination of the level of hearing acuity and sensitivity)
MRI of the brain
If necessary (in the presence of metal fragments in the skull), CT scan of the brain
Consultation of an otolaryngologist
Consultation of a neurologist
Appointment of treatment and support of the patient during treatment
Military;
Civilians affected by hostilities.
The list of documents required for participation in the consideration of the status of beneficiaries of the program:
documents on military service;
medical reports confirming receiving a mine-explosive injury.
Beneficiary selection algorithm and program implementation stages:
Employees of the Foundation review the application for participation in the program and confirm compliance with the requirements for the beneficiary.
The Foundation manager informs the members of the special commission about the beneficiary's candidacy, the commission considers the candidacy, studies the documents, medical and social factors and makes a decision.
The beneficiary receives written confirmation of participation in the program.
The beneficiary is scheduled for a convenient time to receive medical services.
After providing the beneficiary with all medical services, an account is created for the Foundation from the "Dobrobut" medical network.
Make a charitable contribution
Your contributions help Ukrainians affected by the war to meet the victory of Ukraine healthy!

0x565721a9ed21FCB385d0d7654BE6853549Ff9652
bc1q2ktcqed8agumaln6zcdjl6grz97qm5aycwy2s3
0x565721a9ed21FCB385d0d7654BE6853549Ff9652
TVwsE775SFb21aUxRJ1xMQqJTUukSGssJN
TVwsE775SFb21aUxRJ1xMQqJTUukSGssJN
0x565721a9ed21FCB385d0d7654BE6853549Ff9652
Reducing the long-term health consequences of a concussion;
Prevention of hearing loss in people who have received a concussion;
Improving the quality of life of military personnel and civilians who suffered from mine and explosive injuries;
Increasing the level of public awareness about the peculiarities of life with a concussion and the importance of medical help for people who have received a concussion.