According to the UN, from February to July 2022, more than 6,000 adult Ukrainian civilians were injured as a result of Russia's military aggression.
The exact number of wounded soldiers is not disclosed, but it is clear that it is also significant. Combat-related injuries are complex, affect many organs and structures, and often require long and multi-stage treatment.
The "Dobrobut" medical network has the opportunity to provide high-quality surgical care to wounded Ukrainians – qualified specialists, modern medical equipment, and comfortable living conditions.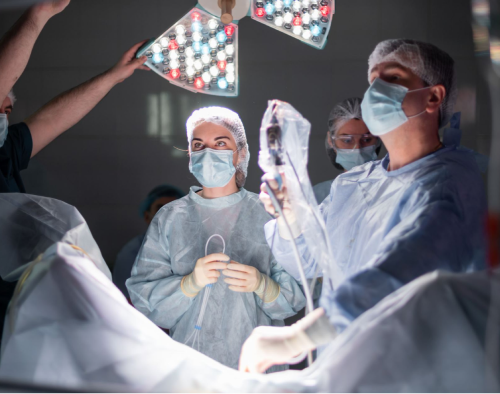 The purpose of the program:
Provide access to high-quality surgical care for Ukrainian civilians who were injured as a result of Russia's military aggression;
To provide qualified surgical treatment to soldiers of the Armed Forces of Ukraine after injuries at the front;
Perform reconstructive surgeries and operations necessary to restore a person's quality of life after an injury.
Examinations necessary before surgery;
Hospitalization to the inpatient department of Medical Network "Dobrobut";
Surgical intervention, medical treatment, rehabilitation.
General surgery;
Traumatology;
Proctology;
Thoracic surgery;
Vascular surgery;
Neurosurgery;
Oncology;
Reconstructive and plastic surgery;
Cardiac surgery;
Gynecology;
Urology;
Otolaryngology and maxillofacial surgery.
Military personnel with incurable diseases
Military personnel with the consequences of combat injuries requiring palliative care and care;
Internally displaced persons from the war zone with incurable diseases;
IDPs from combat zones with the consequences of combat-related injuries requiring palliative care and care.
Patients waiting for organ transplantation.
The list of documents required for participation in the consideration of the status of beneficiaries of the program:
IDP certificate;
documents on military service;
previous medical documentation.
Beneficiary selection algorithm and program implementation stages:
Employees of the Foundation review the application for participation in the program and confirm compliance with the requirements for the beneficiary.
The Foundation manager informs the members of the special commission about the beneficiary's candidacy, the commission considers the candidacy, studies the documents, medical and social factors and makes a decision.
The beneficiary receives written confirmation of participation in the program.
The beneficiary is scheduled for a convenient time to receive medical services.
After providing the beneficiary with all medical services, an account is created for the Foundation from the "Dobrobut" medical network.
Make a charitable contribution
Your contributions help Ukrainians affected by the war to meet the victory of Ukraine healthy!

0x565721a9ed21FCB385d0d7654BE6853549Ff9652
bc1q2ktcqed8agumaln6zcdjl6grz97qm5aycwy2s3
0x565721a9ed21FCB385d0d7654BE6853549Ff9652
TVwsE775SFb21aUxRJ1xMQqJTUukSGssJN
TVwsE775SFb21aUxRJ1xMQqJTUukSGssJN
0x565721a9ed21FCB385d0d7654BE6853549Ff9652
Recovery and rehabilitation of military and civilian Ukrainians who were injured due to Russia's military actions;
Improving the quality of life of Ukrainians who are being treated after an injury.